Training for a fall half marathon or marathon? Join our training runs every Saturday morning in Lehigh Parkway. Meet at the Covered Bridge off 24th Street at 6:30am or 7:00am for your weekly long run. All paces will be accommodated and anyone can join in the fun. The more the merrier!
Kids Series - Next race:  June 8th & 22nd.  Volunteers still needed.
Summer Series 5K- 2nd Race:  June 5, 2013.  Registration starts @ 5:15 pm
Group Runs take place every Tuesday, Wednesday, Thursday, Friday, Saturday and Sunday throughout the year. Visit our Group Run page for times and locations.
LVRR Shirts: Remember, they are $8 a shirt and we ordered some extra small sizes for kids. Shirts are 65/35 poly/cotton blend and extremely comfortable. These have been selling like hotcakes!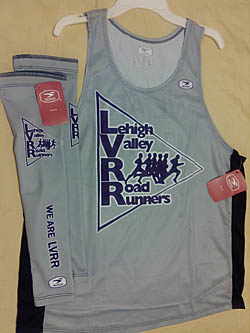 LVRR Singlets and Arm Sleeves: Look sharp this fall race season, spot other members out on the course and show your LVRR pride! The much anticipated singlets and arm sleeves are in! Both items are high quality products from Sugoi. The arm sleeves sell at cost for $15 and the singlets for $20. Be sure to come to the LVRR booth at the St. Lukes Half Marathon and grab your singlet and arm sleeve before they're gone.