Kids Series
Presenting Sponsor:


This is a FREE event offered to all children in the Lehigh Valley. Every other Saturday morning throughout the summer bring your kids over to Lehigh Parkway and register them to run in the Annual Kids Summer Series, an event just for kids! Children who run in 4 of the 6 events will receive a free t-shirt.
VOLUNTEER | DIRECTIONS | T-SHIRT DESIGN CONTEST
2015 Dates: TBA
8:45-9:30 a.m. – Check-in.
* We ask that you please arrive early for registration as it ends promptly at 9:30 am and we hate to disappoint the kids.
9:35 a.m. – Groups assemble and begin their warm-ups.
9:45 a.m. – Races begin.
Age Groups and Distances:
3-4 yrs – 1/8 mile
5-6 yrs – 1/4 mile
7-8 yrs – 1/2 mile
9-10 yrs – 1 mile
11-12 yrs – 1½ miles
13-14 yrs – 2 miles
The 11-12 and 13-14 age groups are eligible for overall series award on the final day of the series. 1st, 2nd and 3rd place for boys and girls will be based on finishes in at least 4 out of the 6 races offered. Scoring is cross country format  – points are earned by placement in the event. 1st place = 1 point, 2nd place = 2 points, 3rd place = 3 points. The goal is to score the lowest number of points.
For great information on children and running check out KidsRunning.com
Series Director: Loretta Dodson – ldodson@ptd.net

Volunteers Needed: We depend on our many, wonderful volunteers to help make these events possible. If you are able to volunteer your time at a race, please fill out our volunteer form.
T-shirt Design & Slogan Contests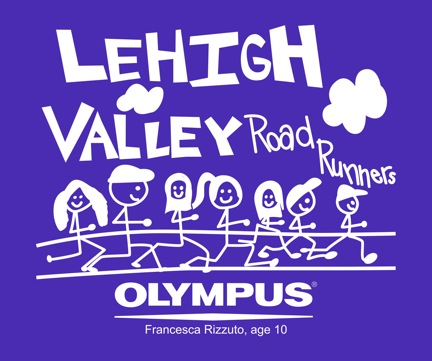 Winners of each contest will have their design and slogan printed on t-shirts which are printed and given to children who participate in 4 of the series' races. Entries are due by June 21st and can be dropped off at any of the races up to and including June 21st, or they can be mailed to LVRR Kids Running Series 2010, PO Box 592, Allentown, PA 18105.  Winners announced on July 19th.
2014 Design Winner: Francesca Rizzuto, age 10
Slogan winner:  Dominic Rizzuto, age 12
"It's not about the pace, just race."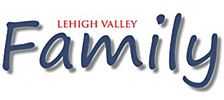 Videos of Kids Race